Introduction
This is a spotlight of one our many customers. It shows how Extreme Web adapted to fit the needs of one customer and how our solution makes this business more productive.
Spotlight: Joan Miller Porcelain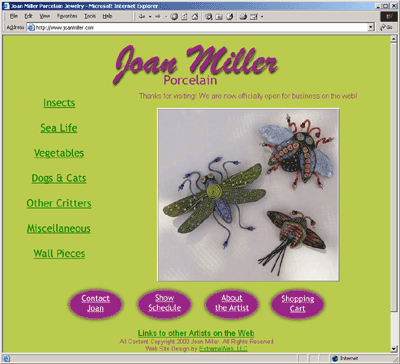 Joan Miller is an artist. She creates beautiful pins, earrings, and other pieces from porcelain which she sculpts and colors all by hand. She works from home and sells all of her crafts either directly to stores or by going to craft shows around the country. Joan had a need to sell her jewelry to people between shows when she was at home. Joan knew the web could help her, but didn't know where to start. She came to Extreme Web.
We analyzed Joan's needs and found that she was giving out her business card to lots of customers during her craft shows. These customers were interested, but not ready to buy right that moment. What if the customer could look at her jewelry at the show, get the web site address from her business card, and then purchase the jewelry a couple days later after they had time to think about it? We were on to something.
Next we asked Joan what she thought would be a good way for people to get in contact with her. She suggested that we implement some way for people to find out what shows they could go to where Joan would be selling her pieces. Joan was constantly adding and changing shows so there was no way for her fans to keep up. Joan wanted to have an up-to-date schedule on the web. Now we've got the makings of a web site.
The Extreme Web Solution
Joan told Extreme Web what kind of look she wanted on the web site and how she wanted to present her porcelain. Extreme Web did the rest. We created a look that represented her work and incorporated all the features that she was looking for. We got Joan a great domain name: joanmiller.com; simple and easy to remember
Joan now displays a select portion of her crafts online where her customers can interactively price and purchase items online. She can update prices as she chooses and do many things automatically. Customers can purchase by credit card or my mailing their payment. After that, they can track their real-time orders status online! They even can track the shipment once Joan mails it to them.
And the show schedule? Joan can update her schedule online as soon as she decides where she'll be. Her customers can find out where she'll be at the click of a button. She can even add links to other artists web sites without programming or HTML coding.
Joan Miller is one of many customers that Extreme Web has satisfied. Feel free to visit her web site and examine her beautiful artwork online...